Don't forget members, you also can listen on your mobile device via a podcast app! For more info click here.
DISCLAIMER: Some graphic descriptions of horse on sheep, and horse on people violence. YOU HAVE BEEN WARNED ... Enjoy at your own risk, and long live horses! ;) 🔪🐴
What do you guys think of horses? Docile majestic creatures right?? At their heart they are passive prey animals. Nay I say to you!
What if I told you for centuries, the truth has been hidden! (but thriving now in Jeremy's crazy corner)
Saddle up, this is gonna be a crazy one!
The domesticated horse- these noble powerful beasts, these quiet 2 ton companions that helped build society- They share our spaces, snorting deceptively right alongside us. But what if I told you that what we've come to know as horses, have in reality long harbored a suppressed bloodlust and a HUNGER for man-flesh? This is the true Nacht-Mare.
The world has been saddled with a lurking danger which hides a dark past. Join us as we expose this Hidden History of Hoofed Horror!
📚 Covering the book DEADLY EQUINES - The Shocking True Story of Meat-Eating & Murderous Horses by CuChullaine 'Reilly - an investigative reporter who has spent more than thirty years studying equestrian travel techniques on every continent - founded the Long Riders' Guild, the world's first international association of equestrian explorers.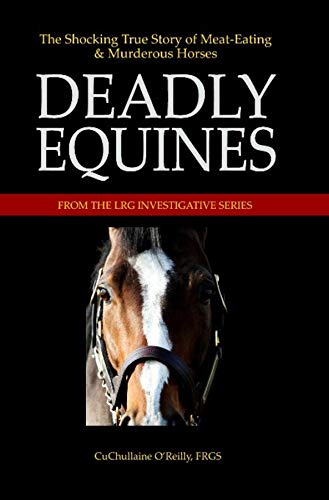 Deadly Equines: The Shocking True Story of Meat-Eating and Murderous Horses
Get Book!
🔗 Sources